26 year old Lorna Simpson booked herself a place at Sharon Osbourne's Judges Houses in LA without any real difficulty.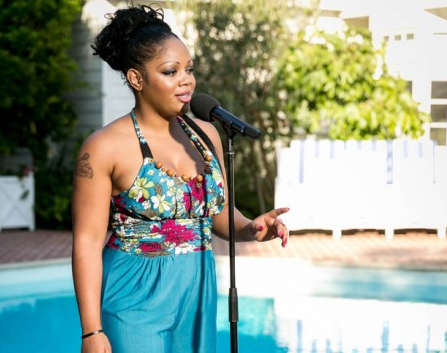 However, she must now do one final audition to convince Sharon and her guest judge Robbie Williams to put her through to the live shows.
Before her performance Lorna revealed:
"I cannot believe I am in LA. It's like a dream come true. I am always reminding myself 'I'm here.'"
"Before I came for my audition I was a normal girl, going to uni, trying to keep up with my coursework, but all I could think about was X Factor. I have always loved singing but I haven't always had the confidence. My neighbour heard me singing through the walls, knocked on my door and gave me an application form for the X Factor."
She added:
"This is the most important moment of my life, I am one step away from my dream and I am going to give it everything I've got."
It was enough to impress Take That star Robbie and he raved:
"She's good isn't she? The vocals are on point, it's a lovely version of a great song. I thought she knocked it out of the park."
Sharon had a little concern though and added:
"She's good. She's good. I just worry about her stage presence. I did see her in front of 4,000 and she was good but not as good as I would have liked."
However, Sharon thought Lorna was worth the risk and put the student from London through to the X Factor live shows.