Six piece male vocal harmony group Tenors Of Rock tried of for The X Factor auditions in Cardiff this year.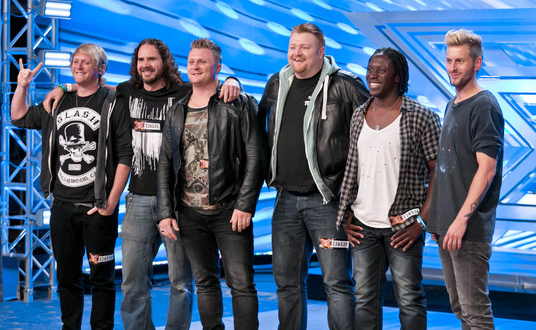 The group whose members are:  Gareth Richards, Jonathan Williams, Dai Richards, Hugh Maynard, Gaz Chart, Jaymz Denning are all tenors and big Rugby fans and comes from London and Cardiff.
The band formed in 2012, has already played at numerous gigs up and down the country, and has also played at BT London Live in Hyde Park three times.
The ensemble performed Livin' on a Prayer by Bon Jovi at The X Factor arena auditions for the judges, and before singing they tell Dermot O'Leary:
"We love Sharon, we'd love to change her mind. Sharon didn't get it and we want to impress everybody, but if we could impress the Queen of Rock that would be great."
"We have been compared to One Direction, we've been called 'Wrong Direction' and the main thing we want to do today is rock out Wembley Arena. It's where our heroes have been. There's been Alice Cooper and David Bowie and it starts to dawn on you what you're doing."
They explained their act saying:
"Tenors Of Rock is a six piece, male vocal group…instead of one front man, we've got six.
After their rendition of the Bon Jovi track, Gary Barlow said:
"Boys that's the way to do an audition!
Nicole Scherzinger adds:
"Not only did you rock the house, but you brought the house down today!"
Louis Walsh told the group:
"I loved the way you started off slow but you built it up and you really look like rock stars. I loved it."
Sharon Osbourne gushes:
"It wasn't good, it was great. The energy up there was electric, well done."
Tenors Of Rock get four yeses and win themselves a spot in bootcamp.