After their disappointment after bootcamp last year, Rough Copy returned to the X Factor this season with one gold in mind, and that is to make the live shows.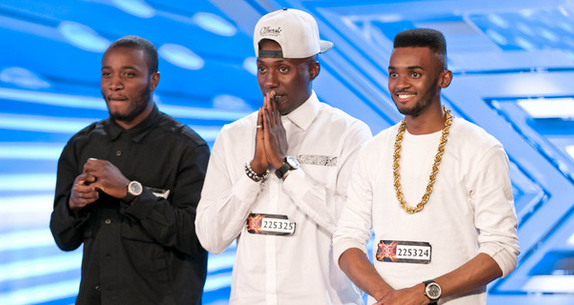 Sterling 28, Kaz 24 and Joe 26 from London, were banned from leaving the country last year because of visa issues after winning a place at judges houses.
They said at the time they would return for the 2013 run and the band stayed true to their word.
At their first audition this year they sang 'Do It Like a Dude' by Jessie J and before singing for the panel the band admitted:
"We were on X Factor 2012, we got put through to judges houses and then unfortunately got told that we couldn't go due to a visa issue. It's our time this year, so y'all step back!"
The boys put their own twist on the popular tune and changed some of the words, singing to the judges 'Gary you're so crazy, Sharon you're the bomb.'
This went down well with the judges and Nicole Scherzinger said:
"Now that is what I call a Rough Copy experience. You're really talented. I think this is your time boys."
Sharon Osbourne added:
"Very smooth, very professional. you worked us each, individually. Well done."
The boys went through to the next round with 4 yeses.