Next of Kin made quite an impact at their X Factor audition earlier this year singing "Can't Find Me Without You", a song the wrote for their mum.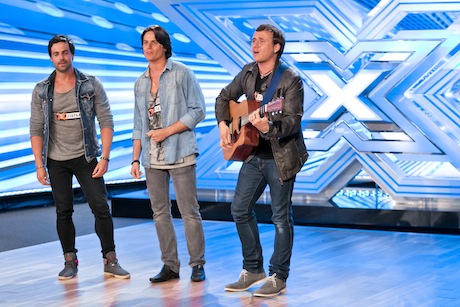 The three brothers, Nathan 32, Kieran 27 and Mark 29 from Colchester, all work together in a factory, packing boxes.
However, they are no strangers to the music industry because some time ago they once had a record deal and was managed by former Spice Girls-manager Simon Fuller's 19 Productions.
The brothers had a degree of success in the 90's playing on the Smash Hits tour in 1998 and supported Boyzone on their UK tour in 1999.
The band were once  hyped as the English version of Hanson and their most notable single was "24 Hours From You", which was co-written by Gary Stevenson of Go West.
However, a decade on and the brothers are once again trying to fulfil their dream. At their X Factor audition, their song and harmonies reduce Nicole Scherzinger to tears.
See their audition here.