The Johnson brothers had their performance interpreted tonight when an intruder came on to the stage and threw eggs at Simon Cowell.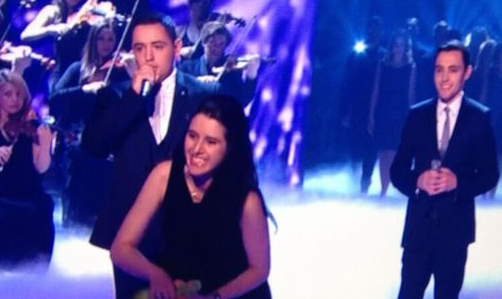 Halfway through the performance by Welsh brothers Richard and Adam, a woman appeared on stage in front of them, before pelting Simon Cowell with eggs.
The brunette female was dressed as part of the orchestra or backing singers accompanying Richard and Adam and took everyone by surprise with her actions.
It appeared to be a security breakdown as it  took a while for the security team to respond to the intruder, but quickly ushered her off stage as Richard and Adam stayed focus and continued on singing.
Afterwards, Simon said: "I thought she was throwing sandwiches!"
And Amanda Holden said: "The only person who has egg on her face is that stupid cow."
Alesha agreed, saying that the distraction was a "shame" for the boys .
Hosts Ant and Dec congratulated the pair on continuing to perform despite the on stage invasion.
But Dec was quick to joke: "Well that was all a bit egg-y… too soon? Too soon!"
However,  the brother delivered a dazzling performance displaying their vocal talents once again.