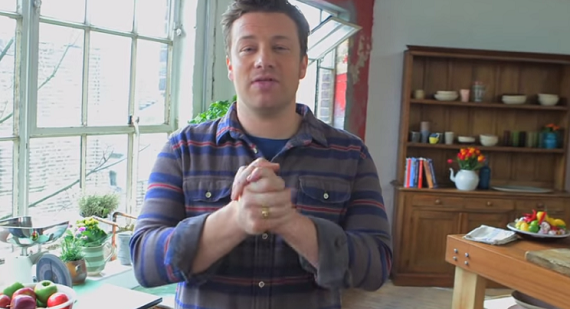 Jamie Oliver cooks aubergine daal on Jamie's Money Saving Meals that works out at around 63 pence per portion.
Jamie says: "If you cook this daal well and season it with love, it'll be delicious, incredibly economical, and sociable, fun eating. Our tasty friend Mr Daal does have the tendency to be quite ugly, but I think, rolled up in these handmade chapatis with fluffy rice, roasted aubergine, crispy curry leaves and chilli, then presented to one's gob – it's a beautiful experience. So I say, no more ugly daal, dress it up, baby, because it's all about the confidence!"
The ingredients are: 1 large aubergine, 2 red onions, 4 cloves of garlic, 2 thumb-sized pieces of ginger, 4 tablespoons rogan josh curry paste, groundnut oil, 500 g yellow split peas, 1 vegetable stock cube, 250 g wholemeal flour, plus extra for dusting, 2 tablespoons olive oil, 320 g basmati rice, 1 fresh red chilli, 1 handful of fresh curry leaves and 1 teaspoon mustard seeds.
See Jamie's recipe here.