Jane Baxter served up a tasty pineapple curry with pilau rice on Matt Tebbutt's Go Veggie and Vegan.
The ingredients are: 1 pineapple, 2 tbsp coconut oil, 1 onion, 1 yellow pepper, 1 tbsp black mustard seeds, 1 stick cinnamon, 20 curry leaves, 3 cloves crushed garlic, 3 cm piece ginger grated, 2 red chillies chopped, 2 tsp Sri Lankan curry powder, ½ tsp turmeric, 150ml coconut milk, 2 tbsp chopped coriander, salt and pepper.
For the rice: 200g Basmati rice, soaked and rinsed, 1 tbsp veg oil, 1 onion, chopped, 1 bay leaf, ¼ tsp ground cardamom, ¼ tsp ground cloves, 400ml boiling water and Pinch of salt.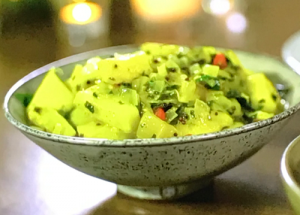 See recipes by Jane in her book titled: Everyday and Sunday: Recipes from Riverford Farm available from Amazon now.