It is the final heat on MasterChef 2014 and the last six cooks of the week entered the MasterChef Kitchen to showcase their cooking skills.
[imagebrowser id=81]
Today's cooks are:
Sophie, 40, Pre-school Teacher
Rhys, 29, Chartered Surveyor
David, 31, Coffee Shop Owner
Rena, Scout Beaver Leader
Robin, 42, Full-time Dad
Alex, 27, Amateur Wrestler.
Watching their every move in this the last week of the heats, are judges John Torode and Greg Wallace, who are looking to identify the cooks that are good enough to make the quarter-finals at the end of the week.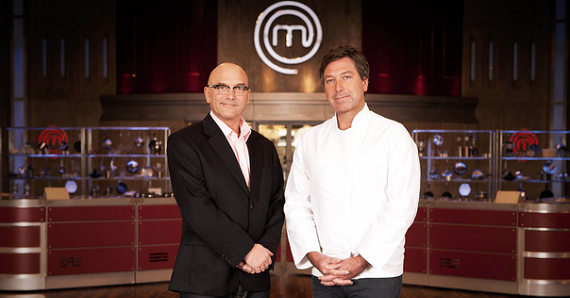 For their first challenge, the cooks must serve up their calling card, a practiced dish that represents who they are as a cook. The time limit for this task is just one hour and their goal is to dazzle the judges with one plate of food that showed just what they can do.
They then faced the infamous invention test, choosing between two sealed boxes of ingredients – one sweet and one savoury. Chef John Torode also takes on this challenge himself, showing the viewers at home just what is possible with the few ingredients. He makes bacon rabbit stuffed with liver from the savoury box.
The sweet box today contains: pineapple, white chocolate, digestive biscuits, pecan nuts, creme fraiche, sherry and szechuan pepper.
The savoury box contains: a saddle of rabbit, smoked haddock, bacon rashers, curly kale, vine tomatoes, dried morels, baby turnips, leeks, cayenne pepper, polenta and sage.
The cooks had just one hour to prepare a dish good enough to keep them in the competition before two are sent home.
The four remaining cooks faced one more challenge to obtain a place in the quarter-final. They had to cook an impressive menu for the 2009 MasterChef champion Mat Follas joins fellow finalist from that year Andy Oliver and 2011 finalist Tom Whitaker.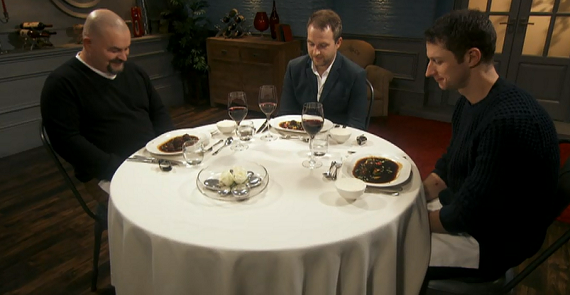 After an intense couple of days cooking their hearts out, the verdict was in. The judges revealed that only one cook would make it through to the quarter finals from this the last heat of the series. That cook was Sophie.