Chef Phil Vickery makes a delicious cheesecake in the This Morning kitchen. He serves up a toffee ripple flavoured cheesecake with melted white chocolate.
For the base Phil used: 200g rich tea biscuits, 25g cocoa powder and 55g white chocolate, melted.
For the filling: 400g cream cheese, 115g caster sugar, 1tbsp cornflour, 3 medium eggs, whole at room temperature, 3tbsp lemon juice, 1½tsp pure vanilla extract, 400ml crème fraîche and 397g can caramel condensed milk.
For the sauce: 300 g frozen blackcurrants, defrosted with juice, 100g castor sugar, about 150mls cold water and squeeze lemon juice.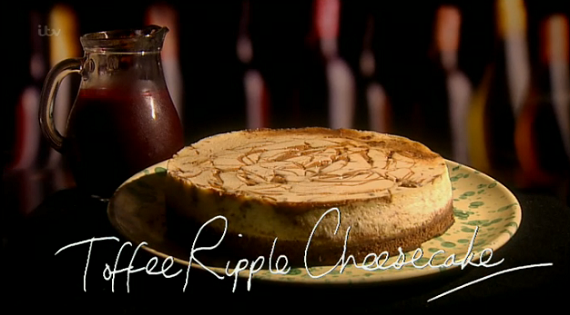 To make the base, place the biscuits and cocoa powder into a food processor and blend until fine crumbs, then add the melted white chocolate and pulse well.
Lightly press into the tin making an even layer, then chill well.
In a food processor, blend the cream cheese and sugar until smooth then add the cornflour blend again before adding the eggs, one at a time.
To finish the base, add lemon juice, vanilla and crème fraiche and blend until smooth.
Wrap the base of the chilled tin in foil, tightly and then repeat for a double layer. Place the tin into a roasting dish. Pour the filling onto the biscuit base.
Warm the Caramel, and gently ripple into the batter, in a circular motion, allowing it to fall from a spoon.
Surround the tin with 2.5cm (1") of very hot water. Bake in the centre of a preheated oven oven at 180C for 45 minutes.
Turn off the oven, without opening the door, and leave for 1 hour to set. Remove to a rack to cool completely, then chill overnight.
Liquidise the blackcurrants, sugar, lemon juice and half the water into a smooth sauce add a touch more water if needed, finally strain through a fine sieve.