Freddy Forster served up tasty tandoori chicken with fragrant rice on Steph's Packed Lunch.
The ingredients are: 2 fillets of chicken breast (No skin), 4 tbsp natural yoghurt, ¼ tsp curry powder, Good pinch of turmeric, 1 clove garlic finely chopped, Zest of 1 lemon and 3 tbsp rapeseed oil.
For the Sauce: Pinch of cumin powder, Pinch of curry powder, 1 tbsp chopped onions, Pinch of chopped garlic, Pinch of turmeric, 1 knob of butter, ½ tin chopped tomatoes, Dash of white wine, 100ml chicken stock, 50ml double cream, Zest of 1 lemon, Zest of 1 lime and 4 x Spring onions, chopped.
Fragrant rice: 200g basmati rice, Pinch of caraway seeds, Vegetable stock, 50g butter and 2-3 tbsp of Olive Oil.
To serve: Coriander leaves.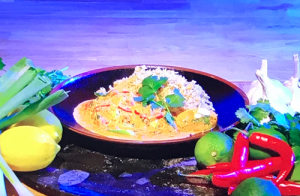 See more recipes from India in the book titled: 365 Great Indian Recipes: The Best Indian Cookbook that Delights Your Taste Buds available from Available now.