Willie Harcourt-Cooze makes truffles and Easter eggs on This Morning with a little help from Eamonn and Ruth.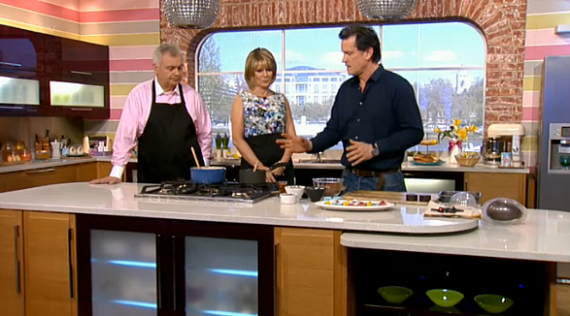 The ingredients for the truffles are: 170ml double cream, 80g caster sugar, 180g Rio Caribe Superior 100% cacao, coarsely grated, 20g unsalted butter and high quality unsweetened cocoa powder for the coating.
To make the truffles, lightly oil or butter a flat baking tin and line with baking paper.
Heat the cream and sugar in a saucepan over a moderate heat, stirring until the sugar has dissolved. Bring almost to the boil, then remove from the heat and stir in the cacao until it has melted and is well combined. Add the butter and mix well. Pour the mixture into a bowl and chill until firm.
Take a teaspoon and draw through the chilled mixture, place the small ball of mixture in the palm of your hand and gently roll. Take each truffle piece and dust in cocoa powder. If stored in an airtight container in the fridge, the truffles will keep well for up to 1 week.