Ruby Bhogal served up delicious raspberry and white chocolate cookies on today's episode of Steph's Packed Lunch.
The ingredients are: 225g unsalted butter, at room temperature, 225g caster sugar, 175g condensed milk, 2 tsp vanilla bean paste, 360g self raising flour, 180g white chocolate chunks and 180g fresh raspberries.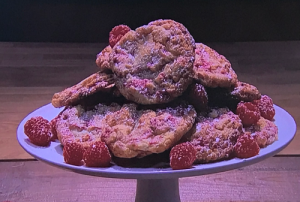 See more cookie recipes in the book titled: 365 Awesome Cookie Recipes: A Cookie Cookbook for Effortless Meals available from Amazon now.