Nisha Katona served up a wonderful South Indian meatball curry with black mustard seeds and curry leaves on today's episode of This Morning.
The ingredients are: 100 ml vegetable oil, 1 ½ tsp black mustard seeds, 2 large onions- roughly chopped, 2 cubes frozen ginger or 3cm pieces, finely chopped or grated, 2 cubes frozen garlic or 2 cloves garlic, crushed and 5 curry leaves.
For the meatballs: 500g chicken mince, 2 tbsp ground coriander, 1 tsp salt, 30g chives, finely chopped, 100g creamed coconut grated, 200ml coconut milk, 100 water, 2 fat green chillies, roughly chopped, 1 tsp turmeric, ¼ tsp chilli powder, 2 tbsp garam masala, 1 ½ tbsp ground coriander, 2 tsp salt , 1 tsp sugar, 200g creme fraiche and Fresh coriander roughly chopped, to garnish.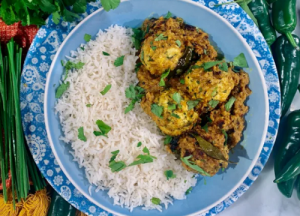 See classic recipes from Umbria in the book titled: EAT & LOVE UMBRIA: The UMBRIA COOKBOOK available from Amazon now.