Jamie Oliver served up pizza with sausage meatballs, grapes, rosemary, pine nuts, sun-dried tomatoes, mozzarella cheese and Buddy's homemade pesto topping on Jamie: Keep Cooking Family Favourites.
The ingredients are: 150 g self-raising flour, plus extra for dusting, olive oil, 2 higher-welfare Cumberland or veggie sausages, 1 small red onion, 1 sprig of rosemary, 1 heaped tablespoon sun-dried tomato paste, 100 g red seedless grapes, 1 x 125 g ball of mozzarella cheese and 1 tablespoon pine nuts.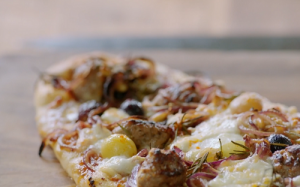 See recipes by Jamie in his book titled: 7 Ways: Easy Ideas for Every Day of the Week
available from Amazon
now.