Matt Tebutt served up roasted sea bass with lemon juice and thyme, braised Portobello mushrooms, sauteed cavolo nero and wild mushrooms and a spicy red pepper sauce on Saturday Kitchen.
The ingredients for the braised mushrooms are: 2 dried ancho or chipotle chillies, 2 Portobello mushrooms , dash olive oil, 1 tsp cumin seeds , 1 tsp dried oregano , 3 garlic cloves, finely chopped , 1 red pepper, finely chopped and 2 tbsp tomato puree.
For the roasted sea bass: 30g plain flour, 2 tbsp olive oil, 1 whole sea bass, head removed, cut through the bone into 2 steaks and scored, 2 thyme sprigs , 40g unsalted butter, diced, 1 lemon, juice only, salt and freshly ground black pepper.
For the sautéed wild mushrooms: 1 tbsp olive oil, 40g unsalted butter, 200g mixed wild mushrooms , 100g cavolo nero , 1 banana shallot, finely chopped, 1 garlic clove, crushed and 1 tsp chopped fresh tarragon.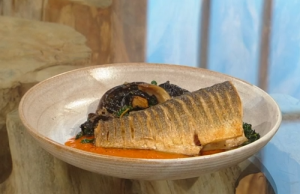 See recipes by Matt in his book titled: Matt Tebbutt's Guilty Pleasures: Your Favourite Sweet and Savoury Indulgences in 130 Easy Recipes
available from Amazon
now.