Lisa Faulkner and John Torode served up a delicious cherry cream pie on john and Lisa's Weekend Kitchen.
The for Pie Base are: 100g unsalted butter + some for greasing, 230g crushed digestive biscuits and 25g caster sugar.
For the filling: 175g caster sugar, 4 tablespoons cornflour, ¼ teaspoon salt, 4 large egg yolks, 825ml milk, 60g softened butter, 2 teaspoons vanilla extract and 1 tin of pitted cherries in syrup.
For the topping: 450 ml whipped cream, 2 teaspoons icing sugar and ½ teaspoon vanilla extract.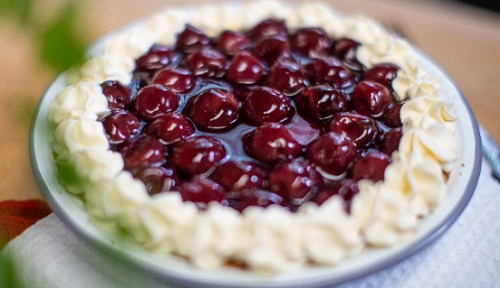 see recipes from Lisa in her book titled: Tea and Cake with Lisa Faulkner
available from Amazon
now.