For their final Food Fight segment on this series of Jamie and Jimmy's Friday Night Feast, Jamie Oliver and Jimmy Doherty visited Bedfordshire to try to revive an old favourite food, The Bedfordshire clanger.
The Bedfordshire clanger has a savoury end which is traditionally meat with diced potatoes and vegetables, and a sweet end of jam or sweetened apple or other fruit.
Gunns Baker in Sandy was the last place to still make and sell Bedfordshire clangers, and Jimmy and Jamie takes up the challenge to breathe new life into this local dish.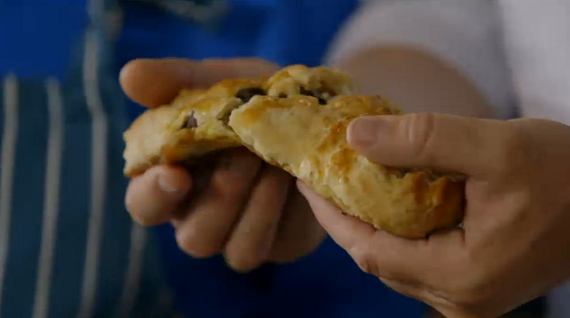 To find out more, Jamie and Jimmy visited a Bedfordshire farm owned by John Franklin and his family who have been farming the land for seven generations. While Jimmy catch up on framing matters and the traditions surrounding the clanger with John, Jamie and John's mother Ann worked on producing three new recipes for the historic clanger:
– Minced pork sage and cider bolognaise for savoury end and spicy baked apples for the sweet end.
– Slow cooked beef chin with beer, and rhubarb and custard.
– Curried roast vegetables, and a mango and coconut rice pudding.
However,to spice things up for the challenge, the duo pitched the Bedfordshire clanger against the Cornish pasty.
They asked locals how many of them were familiar with the clanger and how many had eaten one in the last year. They asked the same questions about Cornish pasties but were surprised to learn that in Bedfordshire Cornish pasties were better known and had been enjoyed in greater numbers.
[imagebrowser id=70]