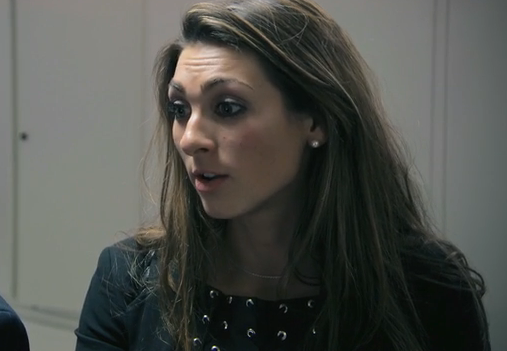 Lusia Zissiman proved that she is not just a pretty face and a sexy body when she put her business skills and assertiveness to the test against Project Manager Jason Leech in tonight's Apprentice Online Dating task.
Lord Sugar sets the candidates a task to create a new online dating concept, making a website and TV advert.
However,  having observed Jason's project management approach to the dating task for team Evolve, Lusia becomes concerned that he is clueless despite making claims that he was known as "Cupid" during his university days, due to the online dating site he ran while there.
While Neil and Francesca are sent off to do market research while Jason and Luisa work on their website, but after a 45 minute delay caused by debating what colour the logo should be, Jason and Luisa are not left with enough time to complete the site.
Luisa, frustrated by Jason's indecision, says: "Jason has no idea, he's so out of his depth. I may seem quite aggressive and pushy with him but he has to step up. I feel like I am PM but I'm not PM. I'm just going to be straight and ask him, do you want me to take over?"
A frank exchange of views takes place in the evening and, for the first time ever on The Apprentice, there is an abdication as Jason and the team agree that he should step down as Project Manager and the mantle should be passed to Luisa.

Lord Sugar observer Nick Hewer said: "Yesterday, I watched the disintegration of Evolve. After Jason abdicated, things have settled down."
But on the topic of the TV advert, produced by Francesca and Neil, Nick is not so confident, explaining: "Market research said 'not cheeky, classy, professional'. They've come up with mumsy, cosy, huggy sort of thing. This is my age group. I'd run a mile."
In the end Lord Sugar was to impressed with the efforts of the team and even less impressed with Jason because he ended up with the short straw and was fired by Lord Sugar.