The Apprentice 2013 series was launched by the BBC this year with hope of recapturing some of the lost viewers who have deserted the series in the past few years.
However, the pre-publicity the show received seem to have backfired in some way due to some sections of the media accusing the BBC of sexing up the show to attract viewers. The charge appears to have originated as a result of the image of some of the female candidates on the show this series.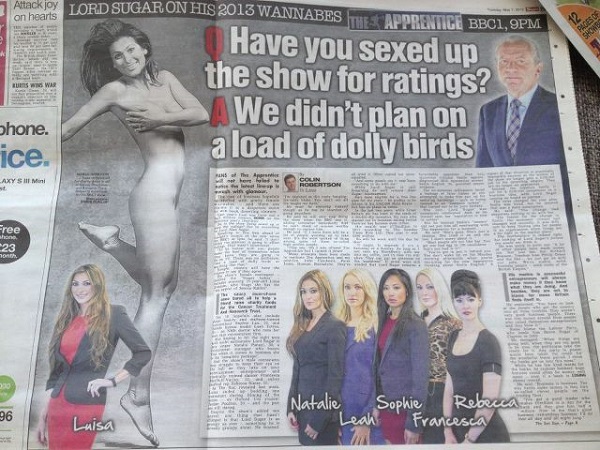 This accusation have since been denied by Lord sugar and the BBC, but it perhaps did nothing to help the ratings as the hit TV series fell to its lowest ratings for the opening episode aired last night.
An average audience of 6 million watched The Apprentice 2013 first episode on BBC One at 9PM , down 400,000 viewers on last year's launch.
It's well down on the peaks of close to 10 million that the show received some years ago, but Lord Sugar suggested that the rating does not reflect that more and more people were now watching online.
He said this week: "When apprentice started there was no iPlayer or catch up TV. Now massive change in viewing habits approx 33% watch it on iPlayer after."
He added: "Point is: TV ratings the industry should now express them as a total, live+ iPlayer+ DVR (sky+ virgin etc) .all data easily available".
See the photos of all the women candidates below:
[imagebrowser id=7]