LB Robinson auditioned for The Voice UK with a tactic that could have backfired when he sang one of music legend and Voice UK coach Tom Jones classic hits.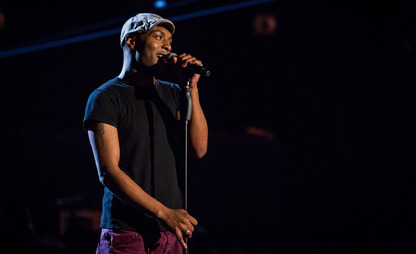 However, the gamble paid off because the soulful singer performed "She Is A Lady" with a R&B vibe that clearly impress Tom Jones who was the first and only judge to turn around.
It would seem that all the other judges enjoyed LB's performance as they were all singing along and grooving to the music, but they must have felt that LB would have only chosen Tom on the night, but it surprised us that only Will.I.am reflected this in his comment:
Jessie J said : I didn't turn around because I really loved the beginning part. I really felt like that was you, and then it went a bit – okay I'm going to throw a word out and I don't want you to take offence – I got a bit bored. I feel like your voice is better than how you sang at the end.
Danny O'Donoghue: Don't take any offence at us all not turning around. At this stage in the show we all have our own game plans. But there's nobody better, genuinely.
Will: The reason why I didn't turn around was because you sounded fantastic. In the beginning and the end. But, it's like what, you're singing the boss's joint? I ain't gonna hit the button.