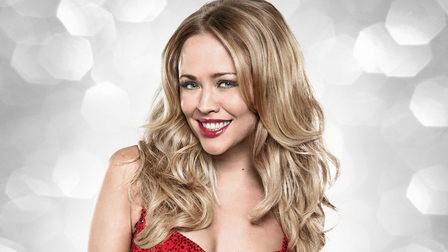 As one fifth of the biggest girl band in the UK, Girls Aloud, Kimberley Walsh has notched up 20 consecutive top ten singles (including four number ones), five platinum albums and sold in excess of 4.2 million albums. Most recently she has stormed the West End with a sellout performance as Princess Fiona in Shrek The Musical. With her musical background, will she be turning the other competitors green with envy?
What made you decide to sign up for Strictly this year?
It felt like the right time, I had considered it in the past and there was always too much going on and I was a little bit scared of it probably. And then doing Shrek and being terrified to do that but then loving it made me think I'd probably really love the experience if I can be brave enough to go for it, so I am! It's totally up my street, something I'll really enjoy, I'm sure I'll thoroughly embrace it. I thought why wait; go for it whilst I've got the chance.
What do your Girls Aloud band mates think of you taking part?
I asked them before I signed up to it, and Cheryl basically told me I had to do it. She gave me no choice! They're really excited about it, they're really happy that I'm doing it. For them it's going to be great because they can just chill out and watch. They are really supportive of the decision, so they'll no doubt be coming down to cheer me on.
How do you think you'd feel if you had to perform to one of your own songs?
I thought about that actually, whether I would ever have to do that. I wouldn't mind to be honest; you're in tune with the music so much. For me, the music choice is quite a big thing; I'm probably going to be a bit bossy about that. For me it makes a massive difference if I love the song I'm performing to, so hopefully we get a bit of choice in the matter.