Rick Stein served up a tasty Viennese goulash with spaetzle pasta on Rick Stein's Long Weekends.
Rick says: "The people of Vienna love gulasch so much they've taken the Hungarian dish and made it their own. The secret is to use lots of onion. If you don't like your food too hot, then reduce the amount of paprika to suit your taste."
The ingredients are: 100g lard, 1.25kg onions, sliced, 2 garlic cloves, grated or finely chopped, 1 tbsp tomato purée, 2 tbsp sweet paprika, 1½ tbsp hot paprika, to taste, ½ tsp caraway seeds, crushed in a pestle and mortar, 1 tsp brown sugar, 1½ tsp salt, 12 turns of the black pepper mill, 2 tsp cider vinegar, 1.5kg shin of beef, cut into 3cm pieces and 1 tbsp chopped flat leaf parsley.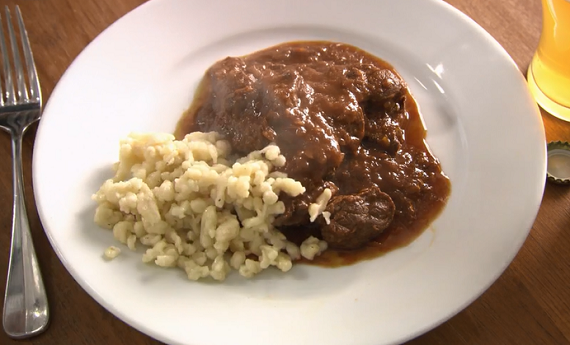 See the recipe in Rick's book titled: Rick Stein's Long Weekends
, available from Amazon
now.