Rick Stein served up tasty bacon joint with split pea purée and sauerkraut on Rick Stein's Long Weekends.
Rick says: "This quick cook sauerkraut is a short cut to the real thing, and any leftovers can be stored in an airtight jar in the fridge for up to two weeks."
The ingredients for the sauerkraut: 1 tbsp rapeseed oil, 1 small onion, thinly sliced, 1 medium white cabbage (about 750g), very thinly shredded, 125ml apple cider, 200ml cider vinegar, 1 tbsp fine salt and 1 tsp caraway seeds.
For the pork: 600g unsmoked streaky bacon, in one piece, rind removed, 1 onion, peeled and left whole, 10 cloves, 75g dark brown sugar, 6 bay leaves, fresh if possible, 1 tsp black peppercorns, ½ tsp chilli flakes and 150ml apple cider.
For the split pea purée: 500g yellow split peas, 100ml rapeseed oil, 1 onion, roughly chopped, 2 garlic cloves, chopped, 1 lemon, juice only, salt and freshly ground black pepper.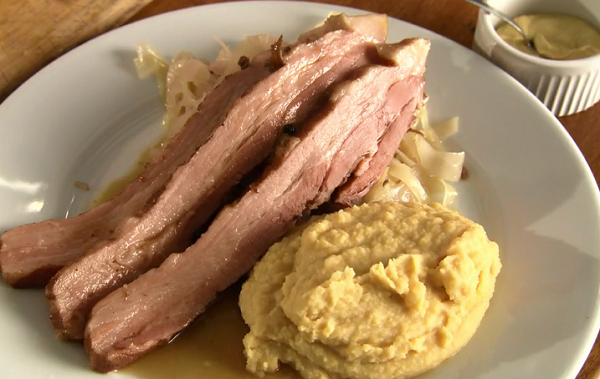 See the recipe in Rick's book titled: Rick Stein's Long Weekends
, available from Amazon
now.