Nigella Lawson served up a tasty oven-cooked chicken shawarma dish on Simply Nigella as says:
"Chicken shawarma is usually cooked on a spit, but this is roasted in the oven. Here, I've served it modestly, on a pile of shredded iceberg, with some warmed pitta, lemon wedges and a tahini sauce. When I make this for groups of friends, or for a family lunch or supper, I slice up some fresh tomatoes sprinkled with mint, and cut some cucumbers into wedged slices, and macerate some red onions, cut into half-moons, with red wine vinegar or lime – in which case it will serve up to 10 people."
The ingredients for her chicken shawarma are: 12 skinless and boneless chicken thighs, 2 unwaxed lemons, 100ml olive oil, 4 fat or 6 smaller garlic cloves, finely grated or minced, 2 dried or fresh bay leaves, 2 tsp paprika, 2 tsp ground cumin, 1 tsp ground coriander, 1 tsp dried chilli flakes, ¼ tsp ground cinnamon, ¼ tsp freshly grated nutmeg, 2 tsp sea salt flakes and lettuce leaves, to serve.
For the shawarma sauce: 250g plain yoghurt, 4 tbsp tahini, 1 fat or 2 smaller garlic cloves, finely grated or minced, fat pinch salt, or to taste and 1 tbsp pomegranate seeds.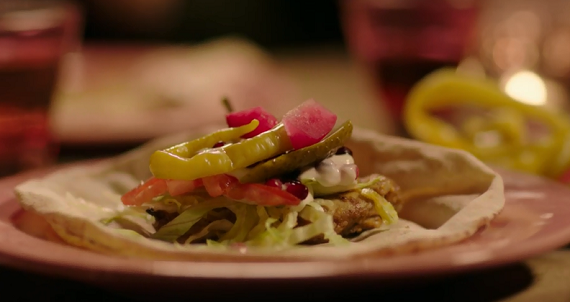 The recipe is taken from Nigella's book titled: Simply Nigella: Feel Good Food
, available from Amazon
now.