Nigella Lawson served up delicious gluten-free, dairy-free and sugar-free breakfast bars with medjool dates, cocoa nibs and goji berries on Simply Nigella.
Nigella says: "This is my new, improved breakfast bar recipe: gluten-free, dairy-free and enough seeds to make you start sprouting. I've used no sugar, but before you start thinking this is virtuously sugar-free (which I could claim it to be), remember that the sweetness that comes from the dates is, in essence, sugar, though certainly it's unprocessed and full of fibre at the same time.
Make these bars at the weekend, and you'll be set up for the week if you're someone who needs to grab-and-go in the morning."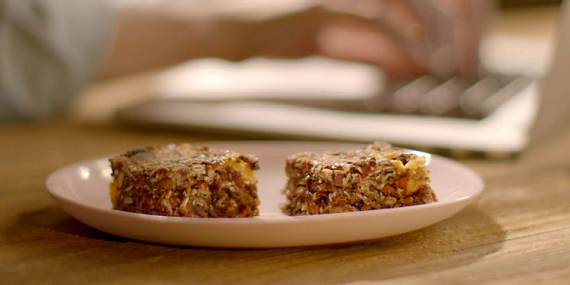 The ingredients are: 250g medjool dates, 2 tsp ground cinnamon, 75g goji berries, 75g pumpkin seeds, 150g brown flaxseeds, 50g cocoa nibs, 25g chia seeds, 25g cornflakes (gluten-free if required) and 100g organic porridge oats (not instant).
All of Nigella's recipes can be found in her fabulous new book titled: Simply Nigella: Feel Good Food- available from Amazon now
.