Nigel Barden serves up a smoky Moroccan chickpea stew with saffron-infused couscous vegan dish on Radio 2 Drivetime.
The ingredients are:
2 tbsp sunflower oil, 1 red onion, roughly chopped, 1 red pepper, deseeded & roughly chopped, 1 carrot, roughly chopped, 2 garlic cloves, finely chopped, 1 aubergine, cubed, 4 large tomatoes, 1 tsp ground cumin, 1 tsp smoked paprika, ½ tsp ground coriander, ½ tsp ground cinnamon, 1 tbsp tomato purée, 1 x 400g can chickpeas, 5 medjool dates, 250g couscous, pinch of saffron strands, pared zest and juice of 1 lemon, 1 tsp veg stock granules, 3 tbsp extra virgin olive oil, 30g fresh flat-leaf parsley, chopped, salt and freshly ground black pepper.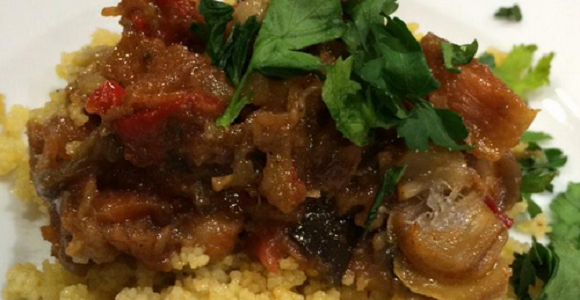 Nigel's recipe is take from the cook book: Keep it Vegan, 100 simple healthy & delicious dishes
by Áine Carlin, available at Amazon.
.