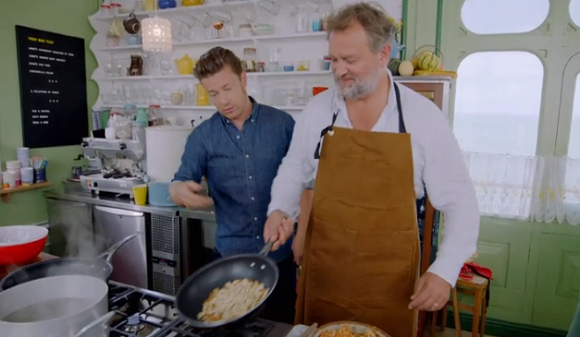 Hugh Bonneville – Lord Grantham from Downton Abbey – with a little help from Jamie Oliver, cooks a authentic pad Thai with prawn and tofu on Jamie and Jimmy's Friday Night Feast.
Jamie says: "This noodle dish is super-popular in Thailand and it's one of my favourites, too."
For Hugh, this dish is a walk down memory lane as he relives his Far Eastern travels were he first sampled the pad Thai. But this is no ordinary recipe, Hugh had what he describes as an 'intoxicating' Pad Thai at a roadside shack while filming in Thailand years ago.
He's tried to recreate the experience ever since without success. But Jamie and Jimmy's team have managed to track down the shack in Thailand and got the recipe from the chef for Hugh to cook.
The ingredients: 150 g flat rice noodles, 1 Scotch bonnet chilli, 1 fresh yellow chilli, 2 limes, sesame oil, 2 red shallots, ½ a bunch of Chinese chives, ¼ of a bunch of Thai mint, ½ a bunch of Thai basil, 140 g silken tofu, 4 large raw Tiger prawns, peeled, 25 g dried shrimps, 50 g shelled unsalted peanuts, 1 pinch of chilli flakes, 1 tablespoon shredded sweet radish, 1 large free-range egg and 60 g beansprouts.
For the tamarind sauce: 25 g palm sugar, 2 tablespoons tamarind paste, fish sauce and white wine vinegar.