Tom Kerridge makes delicious Yorkshire puddings with a few simple ingredients on Tom Kerridge's Proper Pub Food to serves with a treacle-cured beef dish.
The ingredients are: 4 free-range eggs, 350ml milk 225g plain flour.
To prepare the puds, mix the eggs and milk together in a jug.
Put the flour in a bowl and then slowly and gently whisk in the milk and egg mix. Rest the mixture at room temperature for at least four hours.
Add a little vegetable oil to each hole of a muffin tin or Yorkshire pudding tin and place in the oven at 200C/400F/Gas 6 to heat.
When the oil is hot and the Yorkshire pudding batter is rested, fill each hole of the muffin tin and cook in the oven for 15-20 minutes, or until risen and golden-brown.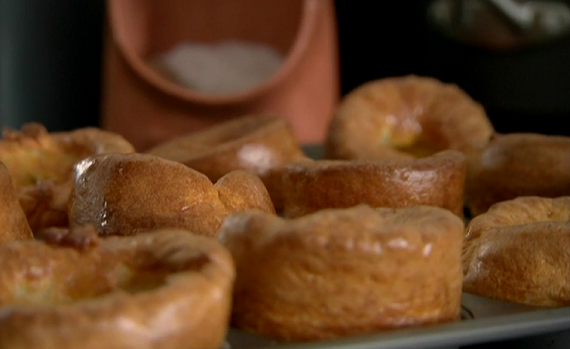 See recipes by Tom in his book titled: Tom Kerridge's Proper Pub Food
available from Amazon
now.