Sabrina Ghayour cooks chicken stew with walnut and pomegranate served with Persian basmati rice on Saturday Kitchen.
Sabrina says: "This sweet and nutty chicken stew is slow cooked to create a thick, rich sauce. Serve with Persian-style rice for a taste of the Middle East."
The ingredients for the stew are: 3 tbsp vegetable oil, 2 large onions, diced, 8 chicken thighs, bone in and skin removed, 1 tbsp plain flour, 600g de-shelled walnuts, finely ground in a food processor, 3 tbsp caster sugar, 450ml pomegranate molasses, 1 pomegranate, seeds only, to garnish and sea salt and freshly ground black pepper.
For the Persian basmati rice: 500g basmati rice, drizzle of light olive oil, 60g butter and flaked sea salt.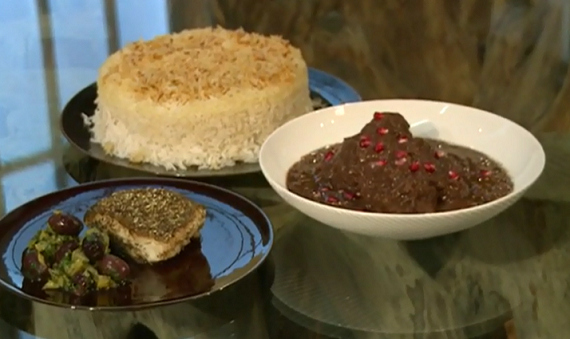 See the full recipe and more in Sabrina's cook book Persiana: Recipes from the Middle East & Beyond
available at Amazon.