Lorraine Pascale cooks a tasty looking honey mustard and garlic spatchcock chicken with sweet potato and mint mash dish on How To Be A Better Cook.
Lorraine says: "Spatchcock chicken takes far less cooking time than a regular whole roast chicken so don't be alarmed! If you are a little bit squeamish about opening up a chicken this way then get your butcher to do it for you, who I am sure will happily oblige. However it is great practice to be able to do it yourself."
The ingredients for the chicken are: 1 large chicken (about 1.8kg), 4 garlic cloves, thinly sliced, 2 tsp sunflower oil, flaked sea salt and freshly ground black pepper, 4 tbsp Dijon mustard, 2 squidges clear honey (to taste), ½ tsp hot chilli powder and a few sprigs fresh thyme, leaves picked and roughly chopped, plus extra sprigs to garnish.
For the sweet potato and mint mash: 1kg sweet potatoes (or potatoes), peeled and cut into large chunks, 25g unsalted butter, 1 bunch spring onions, trimmed and finely sliced, ½ bunch mint, leaves picked and roughly torn, For the gravy, 3 tbsp plain flour, ½ glass white wine, 500ml good liquid chicken stock.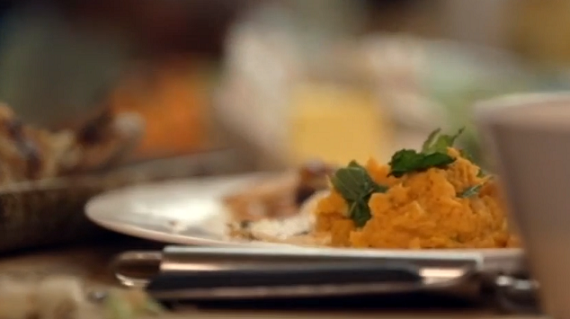 See how to prepare the dish in this video: