Michel Roux Jr. cooks duck with rhubarb and grenadine on Food and Drink as a twenty first century take on Duck à l'orange as part of his food of the future theme.
Michel says: "Rhubarb works wonderfully with the richness of duck and Chinese spices in this gourmet dish."
The ingredients are: 1 duck breast, 3 or 4 sticks of rhubarb, 3tbsp brown sugar, 2tbsp water, dash of grenadine, 100ml red wine vinegar, 500ml chicken stock, 2 nubs of butter, 2tsp Chinese five spices, 2sp salt.
For the garnish: 50g brown sugar, 1 nub of butter.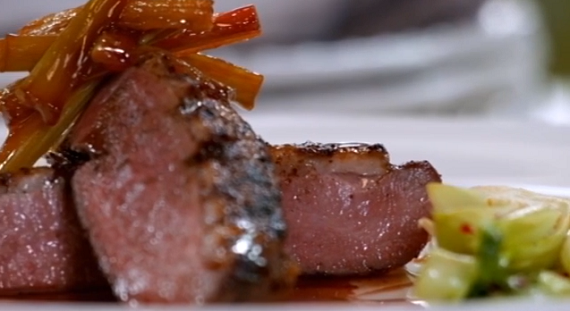 See how Michel prepares his duck served with bok choy in this BBC video.