Gino D'Acampo serves up pulled pork pizza with rocket leaves on Let's Do Lunch with Mel for comedian Rufus Hound.
The ingredients are: 500g belly pork, skin removed, 200ml chicken, pork or veg stock, 6 heated tbsp tomato ketchup, 1 tbsp English mustard, 1 tbsp Worcester sauce, 2 tbsp demerara sugar,A few drops of Tabasco (optional), 250g strong white flour, 1 tsp salt, 5g fast action yeast, 1 tbsp olive oil, 150g passata, Handful of basil, 100g mozzarella, A large handful of rocket leaves and Chilli oil.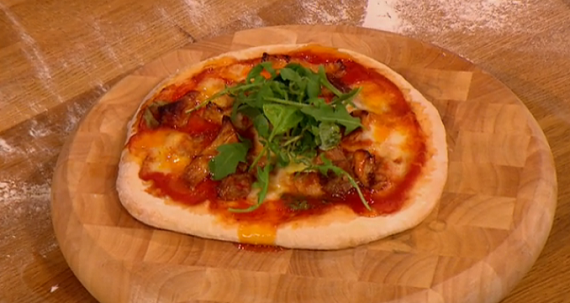 To prepare the pizza, Pre heat the oven to 150C.
Place the pork in a small ovenproof dish. Mix together the ketchup, mustard, Worcester sauce, sugar and Tabasco with the stock and pour over the pork. Cover with foil and roast in the oven for 3 hours or until tender. You want the sauce to reduce until sticky but not burn so if it dries out during cooking add a little more stock.
When the pork has been in for 2 hours, make the dough by mixing together the flour, salt, olive oil and yeast and about 160 ml of warm water. Start mixing it together with the end of a wooden spoon then finish bringing it together with your hands until you have a ball of soft dough. Tip it out on to a clean work surface then kneed for 10 minutes until smooth.
Place the dough into a clean bowl, cover with cling film and leave in a warm place to double in size.
Season the passata with salt and pepper, then stir in the basil.
Turn the oven up to 220C and when the pork is ready, use two forks to pull the meat in to shreds. Mix it into any of the cooking sauces left in the bottom of the dish.
Divide the dough into two, then shape on a floured work surface into two thin discs about 25 cm in diameter.
Spread a little passata over the base of each pizza then top with the pulled pork. Sprinkle over the mozzarella then bake in the oven for 14 minutes or until the dough is crispy and the cheese is golden.
Once cooked remove from the oven, scatter over some of the fresh rocket and a drizzle of chilli oil and serve.