Simon Rimmer makes creamy coconut tart topped with sticky passion fruit sauce on Sunday Brunch.
The ingredients are: 1 x 20cm shortcrust tart case, 3 eggs, 225g sugar, Zest and juice of 1 lime, 200ml maple syrup, 375ml cream and 375g desiccated coconut.
For the passion fruit sauce: 200g sugar, 200ml water, 1 tsp ground ginger and 12 passion fruits, pulp scooped out.
To serve: Vanilla ice cream and Sprigs of mint.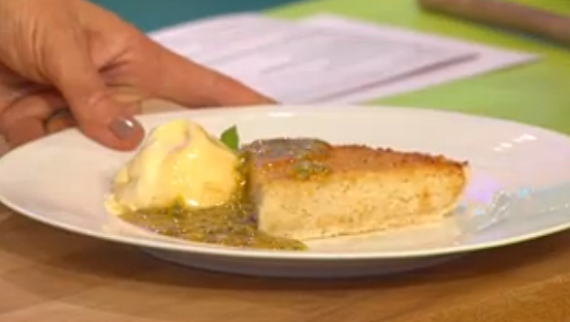 To prepare the tart, preheat the oven to 160C.
In a large bowl beat together the eggs, sugar and lime, then add the maple syrup and cream and mix well. Stir in the coconut.
Spoon the filling into the tart case and bake for 40 minutes.
Remove the tart from the oven and cool completely.
For the sauce, boil the sugar, water, ginger and passion fruit pulp in a saucepan for 5 minutes until syrupy.
Serve a slice of the tart with sauce spooned over, some ice cream and a sprig of mint to decorate.