Nigel Barton cooks sweet soy braised beef cheeks with mango salad recipe on Drivetime with Simon Mayo.
Nigel says: "The idea for this dish came quite easily. I decided to do a braised beef using the best cut for that: cheeks. But beef braised in red wine, as is classic in French cuisine, was too rich & potentially boring for Brisbanites who were used to exciting Asian food influences. So I decided to use the classic French technique but change the ingredients."
The ingredients are: 4 tbsp olive oil, 2kg beef cheeks, trimmed, 300g carrots, sliced, 200g celery, sliced, 2 onions, diced, 5 garlic cloves, crushed, 5cm piece of fresh root ginger, sliced, 1 star anise, 1 lemongrass stalk, crushed, 3 tbsp pomegranate molasses, 9 tbsp sweet Indonesian soy sauce (Kecap manis), 2 tbsp sweet chilli sauce, 3 Kaffir lime leaves, bruised, 500ml veal or beef stock, 3 green cardamom pods, grated zest of 1 orange, plus 1 long piece of peel, 3 tbsp lime juice and toasted sesame seeds, to garnish.
For the Salad: 1 mango, peeled & sliced, 12 spring onions, finely sliced, ½ cucumber, finely sliced, 3 tbsp roughly chopped mint, 3 tbsp roughly chopped coriander, 4 tbsp roughly chopped basil and Wedge of lime, to serve.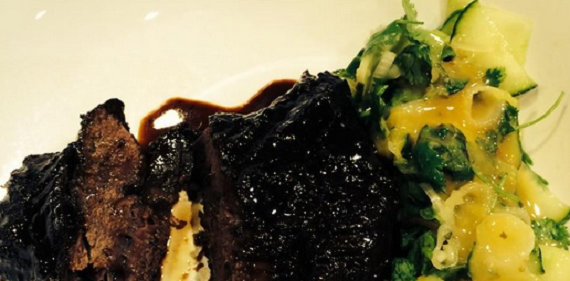 To prepare the dish, preheat the oven to 220°C.
Heat the oil in a frying pan & colour the beef on all sides, then remove with tongs or a slotted spoon & set aside.
In the same pan, place the carrots, celery & onions & fry gently over a medium heat until golden brown.
Place the beef in a casserole or heavy ovenproof dish, add the vegetables & all the remaining ingredients.
Add enough water to cover the cheeks with 3cm of liquid above the meat. Place a circle of greaseproof paper on top, then an old plate, which will keep the beef submerged.
Cover the dish with the lid, or if you don't have a lid use a double layer of foil. Place in the oven for 3 hrs.
Check whether the beef is ready by squeezing a piece of meat between two fingers. It should feel like your fingers would go through it & break it if you pushed hard. Leave the meat to rest in the sauce for at least 30 minutes or it will dry out.
Using a slotted spoon, remove the meat from the sauce, place in a dish & cover with cling film to prevent it from drying out.
Pass the sauce through a fine sieve over a clean pan, then bring to the boil & skim the surface.