Gino makes raspberry and prosecco jelly and homemade vanilla ice cream on Let's Do Lunch.
The ingredients for the jelly are: 5 leaves of gelatin, 400ml processco, 100g caster sugar and 300g raspberries.
For the ice cream: 6 medium egg yolks, The zest and juice of 2 lemons, 100g caster sugar, 500ml double cream and 200g lemon curd.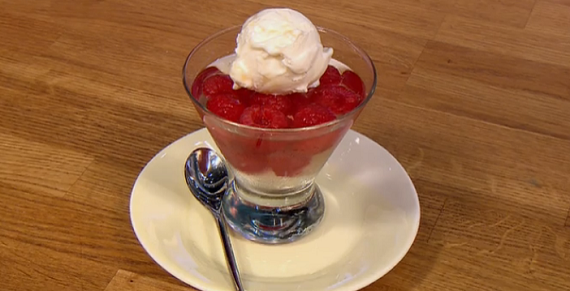 To prepare the dessert, make the jelly by soaking the gelatin in a bowl of cold water for 10 minutes or until soft.
Heat 100ml of the Prosecco in a small saucepan with the sugar. Once the sugar has dissolved and everything is simmering, remove the gelatin from the water and squeeze out any excess. Remove the saucepan from the heat and stir in the gelatin. Once it has dissolved pour in the remaining bubbles into the pan and stir well.
Divide your raspberries between 4 glasses then pour over your jelly mixture. Leave to set in the fridge.
Whilst the jellies are setting, make the ice cream. Place the egg yolks and sugar in a bowl set over a pan of just simmering water. Remove from the heat and whisk with an electric whisk until light and fluffy.
Once doubled in volume, whisk in the lemon zest and juice. Continue whisking until thick and pale then remove from the heat and continue whisking until cool.
Lightly whip the cream then fold in the lemon curd.
Fold the cream into the egg mixture then either place in an ice cream machine and churn until soft set of place in a container for 2 hours, then remove and beat well with a folk. Repeat this process every hour until set.
Remove the jelly and ice cream from the fridge and freezer 10 minutes before serving to soften slightly, then serve with a scoop of ice cream on top of each jelly.