James Tanner makes crispy fried chicken for the World Cup on Lorraine. James serves his dish with Best corn on the cob and easy homemade coleslaw.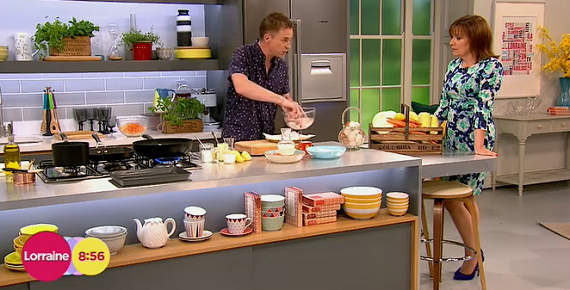 The ingredients are: 8 chicken pieces (thighs or drumsticks), 1 1/2 l water, 3 tbsp salt (for soaking), 250ml milk, 1 egg, beaten, 250g flour, 1 tsp smoked paprika, 1 tbsp mixed dried herbs, 1 tbsp salt, 1 tsp black pepper and Soybean oil for frying.
To prepare the chicken, soak it in salted water for a half hour.
Mix the egg and milk in a bowl. In another bowl mix the flour, paprika, salt, and pepper.
Preheat oven to 200C and place a good splash of oil in a large non-stick frying pan set on medium.
Dry chicken with paper towels. Dredge in flour mixture, place in the milk/egg mixture and then back to flour mixture. Do this one piece at a time, making sure that there is total coverage over entire surface of chicken in each step.
Fry a few pieces of chicken at a time in the pan and colour all over. Place on a baking tray and cook for around 20 minutes, turning occasionally. As always with chicken, check the middle of a large piece that the juices run clear. Allow to drain on paper towels when cooking is completed.