The Bikers serves up Steak Diane with sauté potatoes, a classic 1960's dish on their Best of British food series.
The Bikers says: "Tarragon isn't a classic herb to stir into this quick sauce, but it goes beautifully with the steak. Use fresh stock or make beef stock with just a third of a cube ¬- any stronger and it could overpower the lovely pan juices."
The ingredients for the steak are: 2 tbsp whole black peppercorns, ½ tsp flaked sea salt, 2 x 175g fillet, sirloin or rump steaks, 25g butter, 1 tsp sunflower oil, 2 shallots (or 1 long banana shallot), finely sliced, 3 tbsp brandy, 1 tsp Dijon mustard, 1 tsp worcestershire sauce, 200ml beef stock (fresh or made with 1/3 beef stock cube), 3 tbsp double cream, 1 tbsp finely chopped fresh tarragon leaves (optional) and crisp mixed salad, to serve.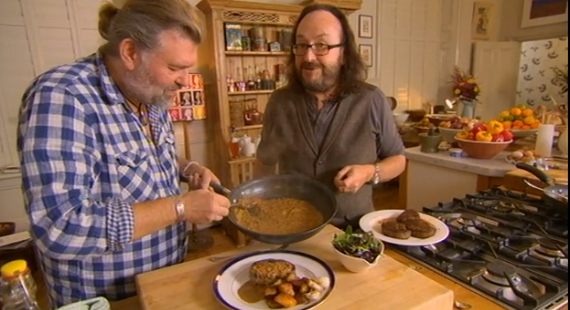 See how the Bikers prepare their dish in this BBC video: