Si and Dave serves up oxtail soup with mini parsley dumplings on their Best of British foods tour.
The Bikers says: "This hearty soup comes with added dumplings, so there's no need for bread."
The ingredients are: 1 whole oxtail (around 1.3kg), cut into chunky pieces, 3 tbsp plain flour, flaked sea salt and freshly ground black pepper, 3-4 tbsp sunflower oil, 2 onions, halved and sliced, 2 garlic cloves, finely chopped, 3 carrots, peeled and diced, 2 sticks celery, trimmed and diced, 1 tsp dried thyme, 2 bay leaves, 300ml red wine, 2 litres/3½ pints beef stock, made with 2 beef stock cubes, 2 tbsp tomato purée, 2 tbsp cream sherry, 2 tbsp yeast extract, such as Marmite.
For the mini parsley dumplings: 200g self-raising flour, 100g shredded suet, 3 tbsp finely chopped parsley, ½ tsp flaked sea salt and 150ml cold water.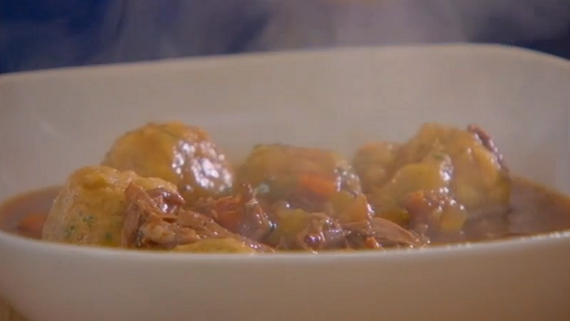 See how the Bikers prepare their soup in this video: