Olia Hercules served up tasty harissa lamb cutlets with flatbread and her brother's tomato aubergine, feta and herb salad on This Morning.
The ingredients are: 100ml kefir or yoghurt, 1½ tbsp rose harissa, /1 tsp ground coriander, 1 tsp ground cumin, 500g lamb cutlets, chops, or another steak-y cut and sea salt.
For the flat bread: 200ml kefir (or 100ml yoghurt mixed with 100ml water), 10g honey, or sugar, 4 tbsp olive oil, 250g self-raising wholemeal flour, or plain flour mixed with 1 tsp baking powder, plus more to dust and sea salt.
For the salad: 2 (or however many you like) medium garlic cloves, 2 large aubergines, 5 tbsp olive oil, ½ small red onion, finely sliced, juice of 1 lemon, 4 large, very ripe tomatoes (such as Bull's Heart), 2 tbsp sesame oil, soft herb leaves, such as coriander, dill, basil, or all of them, 100g feta, crumbled and sea salt.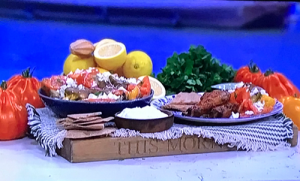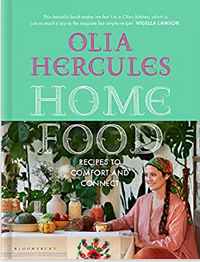 See recipes by Olia in her book titled: Home Food: Recipes to Comfort and Connect available from Amazon now.