Freddy Forster served up a tasty spring chicken casserole on Steph's Packed Lunch.
The ingredients are: 6 x chicken thighs with skin on, boneless, salt and pepper, 25g plain flour, for dusting chicken thighs, 2tbsp vegetable oil, for frying chicken, 6 x button mushrooms, 1 ½ tins chicken soup, smooth, 3tbsp frozen baby carrots, 4tbsp of frozen peas, 2tbsp sour cream, 2tbsp chives, chopped and 1 lemon.
For the Rice: 2tbsp vegetable oil, 1 medium onion, peeled and finely sliced, 200g Basmati or long grain rice, Pinch of turmeric, 1cm piece of ginger, Water, just to cover the rice, salt and pepper.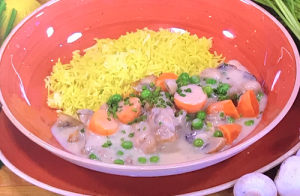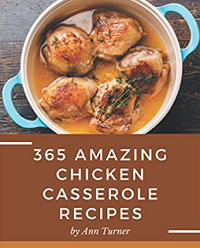 See more casserole recipes in he book titled: 365 Amazing Chicken Casserole Recipes available from Amazon now.