Max Halley served up tasty vitello tonnato (cold sliced roast veal tuna sauce) on Sunday Brunch with Tim Lovejoy and Simon Rimmer.
The ingredients are: 500g approx cooked pork loin or veal, 1 egg yolk, 3 anchovy fillets, drained but oil reserved, 2 tsp capers, 50g tinned tuna, drained but oil reserved, Juice of ½ a lemon, 75ml veg oil, Splash of water if needed, Salt & pepper.
To Garnish: Slices of boiled egg, Fresh oregano, Extra capers and Smoked anchovies.
Serve with Carta di musica flat bread, or other crispy flatbread.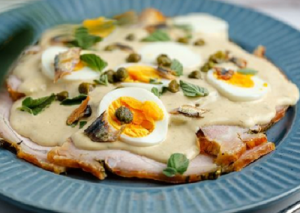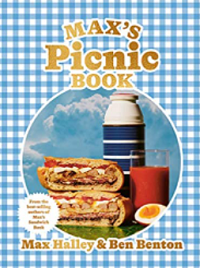 See recipes by Max in the book titled: Max's Picnic Book: An ode to the art of eating outdoors available from Amazon now.