Tom Kerridge served up tasty crispy pork belly tacos with apple sauce, slaw and red onions for the summer on This Morning.
The ingredients are: 1kg pork belly, skin scored by your butcher (free-range or the best quality you can get).
For the brine: 1 litre of cold water and 100g table salt.
For the smoked cods roe (taramasalata): 1 slice of white bread, crusts removed, 100g smoked cod roe, diced, 1 clove of garlic, peeled and grated, 125ml olive oil and Lemon juice to taste.
For the apple sauce: 4 x Bramley apples, peeled, cored, and diced, 25g diced butter and 1 lemon, juiced.
For the Celeriac Slaw (or remoulade): ½ celeriac, peeled and shredded on the mandolin with the teeth fitted, ½ tsp salt, 100g thick mayonnaise, 2 tbsp coarse grain mustard and 2 tbsp chopped chives.
For the pickled red onions: 200ml cider vinegar, 50ml demerara sugar, 1 tsp fennel seeds, 2 x large red onion, peeled and sliced fine, 8 x 6-inch taco or tortilla wraps and 8 x kebab style green chilies drained.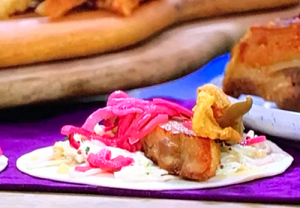 See recipes by Tom in his book titled: Tom Kerridge's Outdoor Cooking: The ultimate modern barbecue bible available from Amazon now.