Freddy Forster served up tasty stir fried pork with a spicy tomato sauce, broccoli and turmeric rice (saucy pork with fragrant rice and broccoli) on Steph's Packed Lunch.
The ingredients for the pork are: 2tbsp vegetable oil, 400g pork tenderloin strips for stir fry, 1 onion, peeled and finely sliced, 2 cloves garlic, peeled and finely sliced, 1tbsp ginger, peeled and chopped, 6tbsp soya sauce, 2tbsp honey, 2tbsp tomato ketchup, 400ml very smooth passata tomato sauce, 100ml water and ½ tsp Dijon mustard.
For the broccoli: 1 head of broccoli, 2tbsp Olive oil, ½ lemon, juiced, 2tbsp cashew nuts, chopped and Pinch of dried chilli flakes.
For the fragrant rice: 300g basmati rice, A good pinch of turmeric, rice should be a light-yellow colour, 500ml vegetable stock, hot, 1 star anise, 2 green cardamom and Pinch of salt.
To serve: 2tbsp coriander leaves.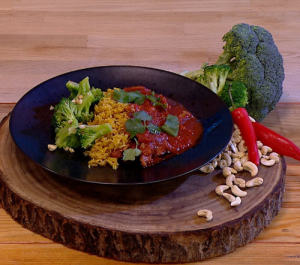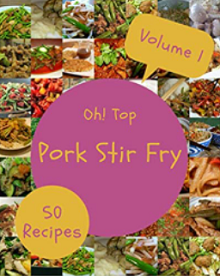 See more pork stir fried recipes in the book titled: Oh! Top 50 Pork Stir Fry Recipes Volume 1: Enjoy Everyday With Pork Stir Fry Cookbook! available from Amazon now.