Mary Berry showed Rima, Diane and Noreen how to make her delicious chocolate birthday cake with apricot jam, chocolate ganache icing, chocolate balls and fresh strawberries on Mary Berry's Fantastic Feast.
The ingredients are: 50g cocoa powder, 6 tbsp boiling water, 4 free-range eggs, 4 tbsp milk, 175g self-raising flour, one level tsp baking powder, 100g baking spread or soft butter and 250g natural caster sugar.
For the gaunache icing: 300g dark chocolate, broken into small pieces and 300ml double cream.
For the filling: 3 tbsp apricot jam and 1/3 of the ganache icing.
For the topping: 1/3 ganache icing, white chocolate balls, 1/3 ganache icing swirls and fresh strawberries.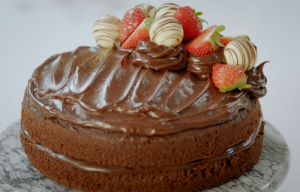 See recipes by Mary in her book titled: Love to Cook: 120 joyful recipes from my new BBC series available from Amazon now.