Monica Galetti served up a delicious peachy mess with whipped cream, meringue, homemade peach ice cream and pistachios on today's episode of Lorraine.
The ingredients for the peach ice cream: 300g peaches (skinned and pitted), frozen, 150g creme fraiche, 1 tbsp golden syrup and ½ tbsp vanilla bean paste.
For the Whipped Cream : 200g whipping cream, 1 tbsp icing sugar and ½ tbsp vanilla bean paste.
For the roasted peaches, 2 tbsp caster sugar, 4 ripe peaches, stoned and quartered and 50g unsalted butter.
To serve: About 3-4 medium meringues (use whatever you may have leftover) and 2 tbsp chopped salted pistachios.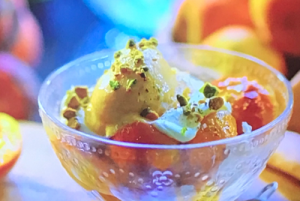 See recipes by Monica in her book titled: AT HOME: THE NEW COOKBOOK FROM MONICA GALETTI OF MASTERCHEF THE PROFESSIONALS: My Favourite Recipes for Family & Friends, from Monica Galetti of Masterchef The Professionals available from Amazon now.