Big Zuu served up a tasty Lebanese style meat pie for Friday night pizza on This Morning.
The ingredients for the filling: 1 white onion, finely chopped, 1 red peppers, finely chopped, 2 fresh tomatoes, finely chopped, 1 – 2 fresh jalapenos, finely chopped, Handful fresh parsley, finely chopped, 2 tsp Lebanese 7 spice, 1 tsp baharat, 2 tsp sumac, Salt and pepper, 2 tbsp pomegranate molasses and 500g mince of your choice.
For the bread: 2 – 4 large shop bought flatbreads.
For the cheese: 100g grated mozzarella (fresh) – to be added half-way through grilling process
For serving: Wedges of lemon and fresh parsley.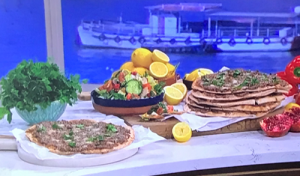 See recipes by Big Zuu in his book titled: Big Zuu's Big Eats: Delicious home cooking with West African and Middle Eastern vibes available from Amazon now.