Ruby Bhogal served up tasty fish tacos with homemade guacamole on Steph's Packed Lunch.
The ingredients for the pickled onion (optional): ½ red onion, peeled and sliced, 1 lime, juiced and salt and pepper.
For the taco sauce: 25g sour cream, 100g mayonnaise and 1tsp Sriracha.
For the cheat nacho chips: 5 large tortilla wraps, 2tbsp olive oil and 1tsp smoked paprika.
For the guacamole: 2 avocado's, ripe, ¼ red onion, peeled and diced, Pinch of red chilli flakes, Handful coriander, finely chopped and Juice of ½ lime.
For the battered fish: 250g white fish eg Cod/Haddock, sliced to inch thick strips, 50g self raising flour, 10g cornflour, Pinch of turmeric, 80ml cold pale beer/lager or carbonated water and Cornflour to dredge.
To serve: 12 small white corn tortilla and shredded round lettuce.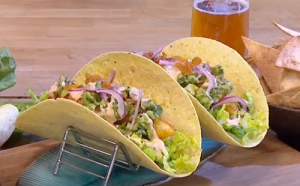 See more recipes for making tacos in the book titled: The Taco Tuesday Cookbook: 52 Tasty Taco Recipes to Make Every Week the Best Ever available from Amazon now.