Dermot O'Leary served up a tasty sea bass fillets with roast potatoes, long stem broccoli and gremolata for a Valentine's Day feast on This Morning.
The ingredients the sauce: 1 Bunch Flat-Leaf Parsley, Finely Chopped , 2 Garlic Cloves, crushed, Zest Of One Lemon, Lemon Juice to taste, 120ml Extra Virgin Olive Oil, Salt and Pepper to Taste and Pinch Chilli Flakes.
For the fish: 2 sea bass fillets with skin on, scored (or another fish of your choice),
Salt & pepper and Oil (optional).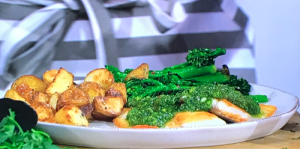 See more Valentine's Day recipes in the book titled: Valentine's Day Recipes: Make Your Partner Feel Special with Love-Cooked Meals available from Amazon now.