Brooklyn Beckham and Nicola Peltz served up a delicious dairy free chocolate lava cake with vegan butter for Valentine's Day on Cooking with Brooklyn Beckham and Nicola Peltz.
The ingredients include; 2 eggs, 2 egg yolks, bittersweet chocolate, unsalted vegan butter, brown sugar, pinch of salt, all purpose flour and icing sugar for dusting.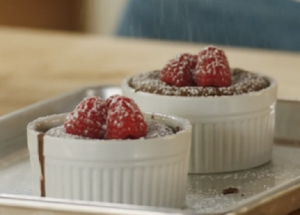 See more chocolate dessert recipes in the book titled: 365 Chocolate Dessert Recipes: A Highly Recommended Chocolate Dessert Cookbook available from Amazon now.