Ruby Bhogal served up a delicious red wine poached pear and chocolate frangipane tart on Steph's Packed Lunch.
The ingredients for the sweet shortcrust pastry: 125g unsalted butter, at room temp, 1tsp vanilla bean paste, 1tsp cinnamon powder, 50g caster sugar, 1 medium free-range egg, 200g plain flour and 1 medium free-range egg, for egg wash.
For the chocolate frangipane: 200g unsalted butter, 200g caster sugar, 1.5tsp vanilla bean paste, 2 medium whole eggs, plus 3 medium egg yolks, 200g dark chocolate, melted, 200g ground almonds and 55g plain flour.
For the poached pear: 275ml red wine, 175ml water, 175g caster sugar, 2tsp vanilla bean paste, 1 cinnamon stick and 3 pears, peeled.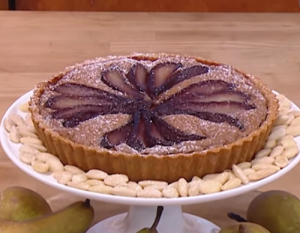 See more recipes for making delicious tarts in the book titled: 500 Tart Recipes: I Love Tart Cookbook! available from Amazon now.